7584867
10K Yellow Gold 1.40mm Flat Marina Chain 20 Inches
7584867
10K Yellow Gold 1.40mm Flat Marina Chain 20 Inches
Out of Stock
$99.99
|
You save an extra: undefined%
5 x $20*
First Installment will include S&H and taxes.
Why Choose Shop LC?
Free Standard Shipping on Online Orders $50+
30 Day Easy Returns
Lowest Price Guarantee
Product description
For a classic to stylish look, flat marina chain creates an effortless look for both men and women. Designed to be versatile, marina necklace have universal appeal. Perfect to wear as an everyday accessory and can be simply worn on its own or with any pendant of your choice.
Highlights
INSPIRATION: The formation of the oval-shaped links is inspired by all things Maritime - hence the name 'Marina' - and this collection is perfect for both masculine and feminine styles

LUXURIOUS LOOK:

This marina chain is crafted in 10K yellow gold

STAYS IN PLACE: This necklace features a lobster clasp to keep the piece in place
EDGY AND ELEGANT: The defined links are efficiently interlocked for a seamless finish, leveraging the accessory an elegant boost and edgy appeal at the same time
---
---
10K Yellow Gold (41.7% pure gold) is a perfect choice for making fine jewelry. As gold is a soft metal, small amounts of other metals are mixed with gold to add strength and durability.
The measurement of the jewelry piece from end to end. The values are approximate and may vary due to the unique craftsmanship of jewelry.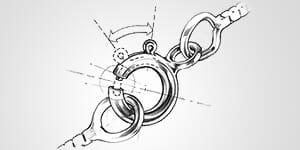 This classic clasp works on a simple spring mechanism. When the tiny lever is pulled back, the spring compresses, and creates an opening for a jump ring or tab. When the lever is released the clasp closes, locking the chain in place.
Approximate weight is the weight of the jewelry or the gemstone in a jewelry setting. It is the nearest value to the actual weight.