7584896
14K Yellow Gold 1.5mm Mariner Necklace 20 Inches 1.10 Grams
7584896
14K Yellow Gold 1.5mm Mariner Necklace 20 Inches 1.10 Grams
Out of Stock
$99.99
|
You save an extra: undefined%
5 x $20*
First Installment will include S&H and taxes.
Why Choose Shop LC?
Free Standard Shipping on Online Orders $50+
Extended Returns till January 17, 2022
Lowest Price Guarantee
Product description
Charming yet elegant, this gorgeous mariner necklace is the definition of minimalism. Composed of interlocking ovals, this necklace gives distinct and intriguing appearance.
Highlights
STRONGEST TYPE OF CHAIN:

Mariner chains feature same sized repeating oval links with a vertical bar in the middle that are arranged in a horizontal, then vertical arrangement.

ROYAL GLEAM:

Royal looking gleam of 14K yellow gold adds a luscious appeal to the chain

COMFORTABLE WEAR:

This mariner chain nestles beautifully around your neck and has a gorgeous fall, with a comfortable weight

USER FRIEND:

Spring clasp allows you to don the chain with ease at your neckline
---
---
14K Yellow Gold (41.7% pure gold) is a perfect choice for making fine jewelry. As gold is a soft metal, small amounts of other metals are mixed with gold to add strength and durability.
The measurement of the jewelry piece from end to end. The values are approximate and may vary due to the unique craftsmanship of jewelry.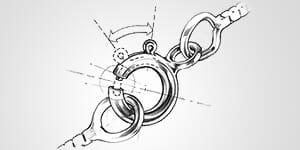 This classic clasp works on a simple spring mechanism. When the tiny lever is pulled back, the spring compresses, and creates an opening for a jump ring or tab. When the lever is released the clasp closes, locking the chain in place.
Approximate weight is the weight of the jewelry or the gemstone in a jewelry setting. It is the nearest value to the actual weight.