3433381
Brazilian Citrine Bolo Bracelet in Stainless Steel and Sterling Silver 2.85 ctw
sold
Hover your mouse over an image to zoom
3433381
Brazilian Citrine Bolo Bracelet in Stainless Steel and Sterling Silver 2.85 ctw
Out of Stock
$33.99
|
You save an extra: undefined%
2 x $17*
First Installment will include S&H and taxes.
Why Choose Shop LC?
Free Standard Shipping on Online Orders $50+
Returnable until Jan 15, 2023
Lowest Price Guarantee
Product Description
Inspired by 7-stone concept, this Brazilian citrine bracelet looks stunning. This bolo bracelet features oval shaped citrine, exuding colorful sparkles ranging from pale yellow to brown. A perfect choice to pair with any of your fashionable outfits.

· Set in 316L stainless steel and stamped 925 sterling silver. Tarnish resistant
· Bolo chain and slider clasp offer easy fit on any wrist size
· Milgrain artwork adds vintage charm
· Citrine is birthstone of November and traditional gift for 13th anniversary
· Citrine ranks 7 on Mohs scale of hardness ensuring durability
· Extensive polish ensures comfortable wearing
---
---
Brazilian Citrine Bolo Bracelet in Stainless Steel and Sterling Silver 2.85 ctw
Brazilian Citrine Information
| | |
| --- | --- |
| Number of Oval Brazilian Citrine (s) | 7 |
| Minimum Carat Total Weight (ct. tw) | |
| Minimum Size | |
| Gemstone Color | |
| Average Clarity | |
| Hardness | 7 |
| Enhancement | |
| Setting Type | |
It denotes the total carat weight of all the gemstones. For example: In a ring there are two gemstones, each gemstone might weigh roughly 1 carat, equaling approximately 2 ct. tw.
Minimum size is the measurement of the size of gemstone present in the jewelry.
Every colored gemstone has its own color range, as per hue, tone and saturation. Color of the gem plays an essential role in determining its value. However, it all depends on personal taste and one should purchase as per preference.
Transparent is a grade of gemstone clarity in which there are no inclusions. Light can easily pass through the material.
In this process, heat is slowly applied to gemstones at temperatures ranging from 200 to 2000 degrees Celsius. Gemstones are formed under heat and pressure, and this heat-only treatment can act as a continuation of Mother Nature's original design. This enhancement alters the color or improves clarity.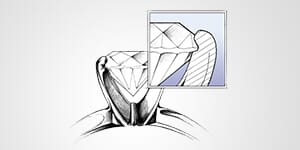 This style sets the gemstone high. This setting usually features 4 or 6 prongs, bent at the edge to snugly fit the gem in place while forming a basket shape underneath.
Fashion bracelet is a simple, elegant, and extremely classy bracelet that can be worn to offices, parties, festivals, and special occasions.
Mix metal is a combination of a metal and another element.
The measurement of the jewelry piece from end to end. The values are approximate and may vary due to the unique craftsmanship of jewelry.
In comfort fit, the band features rounded edges for better comfort and easy wearability.
A bolo slide clasp increases and decreases the diameter of the bracelet. The slide holds together two ends of the bracelet, and can go up and down to release or restrict the amount of chain available.