1616211525
White Heart Shape Music Box with Removable Magnetic Dancer
1616211525
White Heart Shape Music Box with Removable Magnetic Dancer
Out of Stock
Price reduced from
$19.99
to
$16.49
|
You save an extra: 18%
Price reduced from
$19.99
to
$16.49
- Out of Stock
White Heart Shape Music Box with Removable Magnetic Dancer
Why Choose Shop LC?
Free Standard Shipping on Online Orders $50+
30 Day Easy Returns
Lowest Price Guarantee
Keep your jewelry neat, organized, and safely contained in this heart-shaped music box that's fit for any valuable items, trinkets, or keepsakes. The beautiful music box with a ballerina is an excellent way to express love. Music boxes have been adored for decades. They're heartfelt gifts that never get old. A fine specimen exemplifying excellent craftsmanship with great details, it makes a perfect addition to accommodate your precious jewels!
Highlights
MULTIPURPOSE BOX: You can use this beautiful box for keeping earrings, rings, necklaces, and other accessories like pins, pony-ties, and more. You can also use this musical box as a décor item
UNIQUE AND FUN: The removable magnetic ballerina on the musical box looks so adorable. You can listen to the music as the figurines dance around. All you have to do is Gently wind it clockwise for 1-2 circles and it will play music
EXQUISITE MATERIAL: This heart-shaped jewelry box is made of premium quality ABS material. The material is best known for its durability and strength.
EXEMPLARY CRAFTSMANSHIP: The elegant and stylish box looks no less than a hearty delight to store your valuables.Thanks to its incredible craftsmanship, it's indeed a one of a kind addition to your vanity
FOR YOU AND YOURS: Add it to your vanity or get it to surprise your loved ones on a special occasion
White Heart Shape Music Box with Removable Magnetic Dancer
Product Information
| | |
| --- | --- |
| Product Type | Musical Jewelry Box |
| Color | White |
| Care | Clean with Dry Cloth |
| Dimension (s) | 5.70 inches (Length) x 2.75 inches (Width) x 2.36 inches (Height) |
Product Features
| | |
| --- | --- |
| Shape | Heart |
| Special Features | Removable Magnetic Dancer, Musical |
| Items Holds | Ring, Earrings, Necklace, Accessories |
| Storage | Small Compartment |
Material Information
| | |
| --- | --- |
| Material Construction | ABS-Thermoplastic Polymer |
Every product has its own color or color combination which can be described in terms of hue, lightness and saturation. Color provides a unique appearance to the product.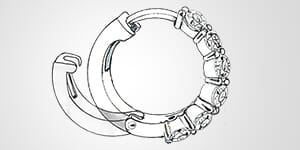 Latch back setting features a fine groove at the end of the post that can fasten the second movable part.