3114887
Hoop Earrings in Stainless Steel
sold
Hover your mouse over an image to zoom
3114887
Hoop Earrings in Stainless Steel
Out of Stock
Was: $23.99
Save An Additional 29%
$16.99
|
You save an extra: undefined%
Why Choose Shop LC?
Free Standard Shipping on Online Orders $50+
30 Day Easy Returns
Lowest Price Guarantee
Hoop earrings are always a perfect pick to accessorize your look for any occasion. Hoops symbolize the circle of life and wholeness. The simple and minimalistic jewelry is the staple of every wardrobe.

• Made in stainless steel
• Anti tarnish metal
• Superior finish and shine
• Lightweight and comfortable to wear

Hoop Earrings in Stainless Steel
Hoop earrings are shaped like hoops and loop from the front of the earlobe to the back.
One of the most widely used metals, stainless steel has the benefit of having a hypoallergenic finish and a non-reactive surface. Shop LC uses 316L stainless steel, popularly known as surgical grade stainless steel. This metal has higher corrosion resistance and durability compared to other metals.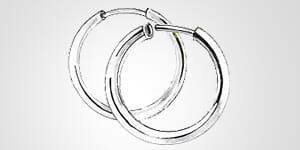 Hinged hoop setting comes with a hinge at the bottom. To wear them, open the hinge of the earring and insert into the ear. To close the hinge, press the post into a small indentation or hole on the other side.
Approximate weight is the weight of the jewelry or the gemstone in a jewelry setting. It is the nearest value to the actual weight.