3146842
RHAPSODY 950 Platinum Hoop Earrings 1.60 Grams
sold
Hover your mouse over an image to zoom
3146842
RHAPSODY 950 Platinum Hoop Earrings 1.60 Grams
Out of Stock
$449.99
|
You save an extra: undefined%
5 x $90*
First Installment will include S&H and taxes.
Why Choose Shop LC?
Free Standard Shipping on Online Orders $50+
Lowest Price Guarantee
Elevate your look with the minimalist charm of these stellar platinum hoop earrings. The simple design of the earrings makes it one of its kind.
Highlights
HOOPS ARE FOREVER:

The fashion of hoops has been trending for ages and continues to shine bright

CIRCLE OF LIFE:

These circular earrings are said to showcase unity, infinity, and wholeness

EXPERT CRAFTSMANSHIP:

The flawless construction of the hoops displays expert craftsmanship

EASY TO LATCH:

Can be worn quite easily with the help of hinged locks at the back

LIGHTWEIGHT BUT WITH BIG IMPACT:

The earrings weigh relatively light on the ears yet leave a heavy statement style

SOAKED IN LUXURY:

The cheerful hoop earrings are made in 950 platinum
RHAPSODY 950 Platinum Hoop Earrings 1.60 Grams
Hoop earrings are shaped like hoops and loop from the front of the earlobe to the back.
Platinum is a rare, strong, and durable naturally white metal. 950 platinum features 95% pure platinum. It is often alloyed with copper and titanium. The grayish-white to silver-gray metal is durable & tarnish resistant.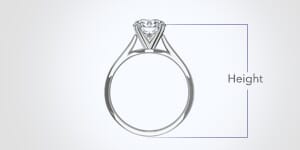 Height of a jewelry piece is measured vertically from the base to the top. The values are approximate and may vary due to the unique craftsmanship of jewelry.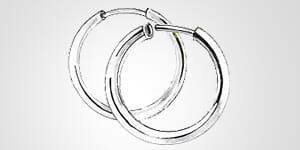 Hinged hoop setting comes with a hinge at the bottom. To wear them, open the hinge of the earring and insert into the ear. To close the hinge, press the post into a small indentation or hole on the other side.
Approximate weight is the weight of the jewelry or the gemstone in a jewelry setting. It is the nearest value to the actual weight.
Platinum is harder than silver and gold. The metal is also hypo-allergenic & tarnish-resistant. Platinum plating is durable and helps in enhancing the metal-life. In addition, the plating maintains a bright white sheen that makes metal even more beautiful.