3803170
LUXORO 10K Yellow Gold G-H I3 Diamond Flower Stud Earrings 1.00 ctw
sold
Hover your mouse over an image to zoom
3803170
LUXORO 10K Yellow Gold G-H I3 Diamond Flower Stud Earrings 1.00 ctw
Out of Stock
Price reduced from
$799.99
to
$519.99
|
You save an extra: 35%
5 x $104*
First Installment will include S&H and taxes.
Limited Time Offer
Get FREE expedited shipping!
Why Choose Shop LC?
Free Standard Shipping on Online Orders $50+
30 Day Easy Returns
Lowest Price Guarantee
Behold the starry sparkles and encrust them to your style! Studded with the glimmer of diamonds, this pair of stud earrings is carved with the sheen and radiance of the 10K yellow gold. The unbreakable stones on these stud earrings are featured in enchanting floral designs to offer you an elegant look. A perfect blend of understated and glamorous, this wondrous pair by the luxurious Luxoro Collection will surely add some defining grace to your look.
Highlights
BRAND OF LUXURY: This pair of two lustrous masterpieces has been presented from the celebrated and lush Luxoro Collection
FULL BLOOMED FLOWERS: The novel design of these earrings speaks of spring; it reminds you of the full-bloomed flowers
AUTHENTIC DIAMONDS: Since the jewelry is embedded with scintillating premium diamonds, you can wear it with extreme pride
SUPPORTIVE STYLE: The gems are beautifully secured in prongs setting. The setting is famed for allowing maximum light to hit on gems' surface for more sparkle
INTENSE LUSTER: For achieving an intense luster, the pair is crafted with 10K yellow gold
DIAMOND REALLY ARE FOREVER: Diamonds are truly eternal, making them an excellent choice for all types of jewelry. Diamonds, also known as unbreakable stones, can maintain their beauty year after year. They rank ten on the Mohs scale of hardness, and they make a wonderful modern birthstone of April
LUXORO 10K Yellow Gold G-H I3 Diamond Flower Stud Earrings 1.00 ctw
Diamond I Information
| | |
| --- | --- |
| Number of Round Diamond (s) | 2 |
| Minimum Carat Total Weight (ct. tw) | 0.75 |
| Minimum Size | 3.2 mm |
| Gemstone Color | G-H |
| Average Clarity | I3 |
| Hardness | 10 |
| Treatment | None |
| Setting Type | Pressure |
Diamond II Information
| | |
| --- | --- |
| Number of Round Diamond (s) | 12 |
| Minimum Carat Total Weight (ct. tw) | 0.25 |
| Minimum Size | 2.5 mm |
| Gemstone Color | G-H |
| Average Clarity | I3 |
| Hardness | 10 |
| Treatment | None |
| Setting Type | Prong |
Earrings Information
| | |
| --- | --- |
| Type | Stud Earrings |
| Metal | 10K Yellow Gold |
| Height | 8 mm |
| Backing | Post Stud |
Diamonds are the hardest material on Earth, and ranks 10 on the Mohs scale, topping the chart. The resistance to scratching makes a diamond the perfect choice for jewelry, especially a signature piece that sees daily wear. Diamond is the birthstone for April and perfect 10th and 60th wedding anniversary gift.
It denotes the total carat weight of all the gemstones. For example: In a ring there are two gemstones, each gemstone might weigh roughly 1 carat, equaling approximately 2 ct. tw.
Minimum size is the measurement of the size of gemstone present in the jewelry.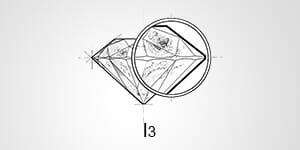 Diamond comes in various clarity grades, and I3 has a fair amount of inclusions. In I3 grade diamonds, inclusions are more prominent or visible.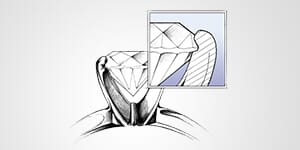 This style sets the gemstone high. This setting usually features 4 or 6 prongs, bent at the edge to snugly fit the gem in place while forming a basket shape underneath.
Stud earrings tend to be on the small side and sit snuggly on top of the ear lobe without dropping downward, looping backward, or climbing upward.
10K Yellow Gold (41.7% pure gold) is a perfect choice for making fine jewelry. As gold is a soft metal, small amounts of other metals are mixed with gold to add strength and durability.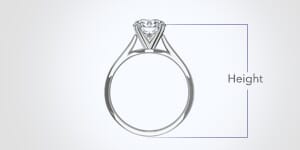 Height of a jewelry piece is measured vertically from the base to the top. The values are approximate and may vary due to the unique craftsmanship of jewelry.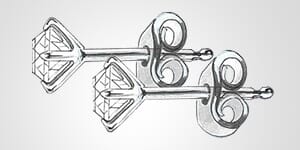 Post stud is the most popular simple fastening type. Insert the post (attached to the back of the earring) to the earlobe and fasten with a friction back (metal/silicone).