6029300
Pink Double Heart Shape Music Box with Removable Magnetic Dancer
sold
Hover your mouse over an image to zoom
6029300
Pink Double Heart Shape Music Box with Removable Magnetic Dancer
Out of Stock
$20.99
|
You save an extra: undefined%
Pink Double Heart Shape Music Box with Removable Magnetic Dancer
Why Choose Shop LC?
Free Standard Shipping on Online Orders $50+
30 Day Easy Returns
Lowest Price Guarantee
Surprise your loved ones with this elegant double heart shape music box. The music box is accompanied by a removable magnetic dancer who looks adorable. Soothing music from the box, while you are taking out jewelry gives a fascinating feeling. Women are passionate about jewelry; it signifies the symbol of femininity and also carries a social status, so keeping them in an organized place is a must, this stylish and elegant double heart shape jewelry box will keep your jewelry safe and organized.
Highlights
MULTI-FUNCTIONAL BOX: It is designed to keep your small jewelry and accessories like earrings, wedding rings, necklace pins, pony-ties, etc., which can easily fit into this. You can also use this as your home decor
APPRECIABLE WORKMANSHIP: The quality of this musical jewelry box looks fantastic; the box's design is awe-inspiring. The beautiful doll while dancing looks super adorable, which is giving remarkable appeal to the product
SOOTHING MUSIC: It is easy to use. You just need to wind the knob 1 or 2 times, soothing music will give you relax feeling, and you will find yourself completely involved in that soft music
DETACHABLE DANCING DOLL: The beautiful doll dances according to the music. It's a visual delight
ADORABLE GIFT: The 8.5x3 inches music box can be a beautiful pick to delight your loved ones on special occasions
Pink Double Heart Shape Music Box with Removable Magnetic Dancer
Product Information
| | |
| --- | --- |
| Product Type | Musical Jewelry Box |
| Color | |
| Care | Clean with Dry Cloth |
| Dimension (s) | 8.5 inches (Width) x 3 inches (Height) |
Every product has its own color or color combination which can be described in terms of hue, lightness and saturation. Color provides a unique appearance to the product.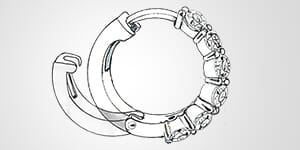 Latch back setting features a fine groove at the end of the post that can fasten the second movable part.