3343178
Simulated Ruby Color Diamond Inside Out Hoop Earrings in Stainless Steel
sold
Hover your mouse over an image to zoom
3343178
Simulated Ruby Color Diamond Inside Out Hoop Earrings in Stainless Steel
Out of Stock
Was: $20.99
Save An Additional 5%
$19.99
|
You save an extra: undefined%
Was: $20.99
Save An Additional 5%
$19.99
- Out of Stock
Simulated Ruby Color Diamond Inside Out Hoop Earrings in Stainless Steel
Why Choose Shop LC?
Free Standard Shipping on Online Orders $50+
30 Day Easy Returns
Lowest Price Guarantee
These trendy hoop earrings are embellished with sparkling simulated diamonds. Hoops symbolizes wholeness and circle of life. Set in inside out pattern, the earrings are every wardrobe staple.

• High quality crystals
• Faceted round shape gemstones
• Prong setting
• Set in stainless steel
• Lightweight and comfortable to wear

Simulated Ruby Color Diamond Inside Out Hoop Earrings in Stainless Steel
Simulated Diamond Information
| | |
| --- | --- |
| Number of Round Simulated Diamond (s) | 16 |
| Minimum Carat Total Weight (ct. tw) | 15.95 |
| Minimum Size | 6 mm |
| Gemstone Color | Red |
| Average Clarity | Transparent |
| Treatment | Lab Created |
| Setting Type | Prong |
Earrings Information
| | |
| --- | --- |
| Type | Hoop Earrings |
| Metal | Stainless Steel |
| Height | 26 mm |
| Clasp | Hinged Hoop |
Simulated diamond is available in a variety of colors. Ranking between 7.5 to 8.5, the gemstone is said to exhibit amazing brilliance and luster, just like real diamonds.
It denotes the total carat weight of all the gemstones. For example: In a ring there are two gemstones, each gemstone might weigh roughly 1 carat, equaling approximately 2 ct. tw.
Minimum size is the measurement of the size of gemstone present in the jewelry.
Every colored gemstone has its own color range, as per hue, tone and saturation. Color of the gem plays an essential role in determining its value. However, it all depends on personal taste and one should purchase as per preference.
Transparent is a grade of gemstone clarity in which there are no inclusions. Light can easily pass through the material.
In Lab created process, the gemstones are grown in controlled environment. The process takes six to twelve months to create a gemstone. The lab created gemstones have the same chemical, optical and physical characteristics as natural gems.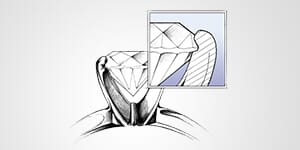 This style sets the gemstone high. This setting usually features 4 or 6 prongs, bent at the edge to snugly fit the gem in place while forming a basket shape underneath.
Hoop earrings are shaped like hoops and loop from the front of the earlobe to the back.
One of the most widely used metals, stainless steel has the benefit of having a hypoallergenic finish and a non-reactive surface. Shop LC uses 316L stainless steel, popularly known as surgical grade stainless steel. This metal has higher corrosion resistance and durability compared to other metals.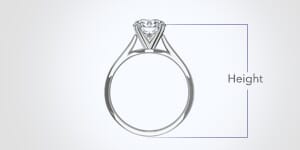 Height of a jewelry piece is measured vertically from the base to the top. The values are approximate and may vary due to the unique craftsmanship of jewelry.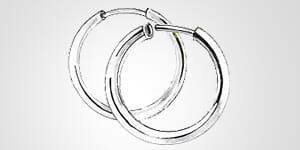 Hinged hoop setting comes with a hinge at the bottom. To wear them, open the hinge of the earring and insert into the ear. To close the hinge, press the post into a small indentation or hole on the other side.