3380688
Aluminum Oxidized, Scratch Resistant, Handmade, Elephant Patterned Story Jewelry Box With Anti Scratch Protection interior For Rings, Jewelry, Keepsake
sold
Hover your mouse over an image to zoom
3380688
Aluminum Oxidized, Scratch Resistant, Handmade, Elephant Patterned Story Jewelry Box With Anti Scratch Protection interior For Rings, Jewelry, Keepsake
Out of Stock
$9.99
|
You save an extra: undefined%
2 x $5*
First Installment will include S&H and taxes.
Why Choose Shop LC?
Free Standard Shipping on Online Orders $50+
Extended returns through January 15, 2023
Lowest Price Guarantee
Product Description
Experience royalty with this aluminum oxidized jewelry box. A classic addition to your organizers, this box protects your precious jewels in style. The box is crafted by skilled artisans, and the aluminum foil exterior is hand-pressed on wood. The box looks regal and unique with an exceptional finish. With a vintage look, the box is equipped with multiple slots and compartments.
Highlights
DESIGN:

These style jewelry boxes were in use as early as 5000 BC in ancient Egypt. Delightful floral vein design looks captivating

VELVET INTERIOR:

Smooth velvet interior protects jewelry items from tarnish and scratches

LOCK AND SECURE

: Keep your jewelry pieces safe and away from mischievous children once you place the clasp in the dedicated space, keeping all your woes at bay

STURDY CONSTRUCTION: The jewelry box is made up of sturdy construction, which makes it perfect for long term use

SIZE:

The size of the box is 8 x 5 inches
---
Aluminum Oxidized, Scratch Resistant, Handmade, Elephant Patterned Story Jewelry Box With Anti Scratch Protection interior For Rings, Jewelry, Keepsake
Product Information
| | |
| --- | --- |
| Product Type | Jewelry Box |
| Color | Burgundy |
| Care | Clean with Dry Cloth |
| Dimension (s) | 8 inches (Length) x 5 inches (Width) x 2 inches (Height) |
Product Features
| | |
| --- | --- |
| Pattern | Elephant Face |
| Special Features | Handcrafted, Scratch Resistant |
| Closure | Latch |
| Storage | Compartment, Ring Rows |
Compartment Information
Material Information
| | |
| --- | --- |
| Material Construction | MDF |
| Finish | Aluminum |
| Lining | Velvet |
Every product has its own color or color combination which can be described in terms of hue, lightness and saturation. Color provides a unique appearance to the product.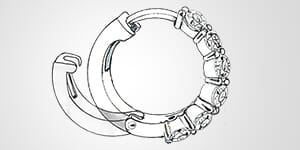 Latch back setting features a fine groove at the end of the post that can fasten the second movable part.