3116254
Brown Heart Shape Music Box with Removable Magnetic Dancer
3116254
Brown Heart Shape Music Box with Removable Magnetic Dancer
Out of Stock
Price reduced from
$17.99
to
$11.69
|
You save an extra: 35%
Why Choose Shop LC?
Free Standard Shipping on Online Orders $50+
Extended returns through January 15, 2023
Lowest Price Guarantee
Product Description
Create a musical and romantic atmosphere with this heart-shaped music box. This music box is made with premium material and comes in an attractive heart-shaped design. It plays soft music to keep you entertained. This music box contains a small space and is ideal for keeping in your bedroom, child's room, or more.
Highlights
MUSICAL: This music box can play soothing music to give you entertainment for hours
HEART SHAPE: This music box comes with an attractive heart shape design to give it an appealing look
STORAGE: It contains a box for storing small, cherished items, including earrings, necklaces, rings, and accessories
HOW TO USE: Gently wind it clockwise for one to two circles, and it will start playing music
MAGNETIC DANCER: It comes with a removable magnetic dancer that dances to music that looks romantic and elegant
MATERIAL: This music box is made with premium ABS-thermoplastic polymer material to make it durable and long-lasting
WHAT IS ABS THERMOPLASTIC: The material is non-toxic and resistant to abrasion. It has a much higher melting point. It's also stronger and harder. The material can be recycled, ground up, reprocessed, and reused in utility applications
AN IDEAL GIFT: It is a perfect gift for relatives, colleagues, classmates, friends, and children on different occasions
CARE INSTRUCTIONS: Clean it with a dry cloth
DIMENSIONS: 5.70 inches (Length) x 2.75 inches (Width) x 2.36 inches (Height)
---
---
Brown Heart Shape Music Box with Removable Magnetic Dancer
Product Information
| | |
| --- | --- |
| Product Type | Musical Jewelry Box |
| Color | Brown |
| Care | Clean with Dry Cloth |
| Dimension (s) | 5.70 inches (Length) x 2.75 inches (Width) x 2.36 inches (Height) |
Product Features
| | |
| --- | --- |
| Shape | Heart |
| Special Features | Removable Magnetic Dancer, Musical |
| Items Holds | Ring, Earrings, Necklace, Accessories |
| Storage | Small Compartment |
Material Information
| | |
| --- | --- |
| Material Construction | ABS-Thermoplastic Polymer |
Every product has its own color or color combination which can be described in terms of hue, lightness and saturation. Color provides a unique appearance to the product.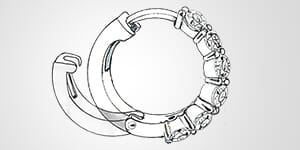 Latch back setting features a fine groove at the end of the post that can fasten the second movable part.
Heart Shaped Jewelry Music Box
Whether a gift for adult or child, this soothing music box is a classic that is sure to delight!
A Classic Music Box
Be soothed by the melody and mesmerized by the ballerina dancing on her dance floor. Gently wind the knob on the bottom clockwise 1-2 times and the box will play music and spin the ballerina.
Multi-Functional
This music box is both entertaining and functional. It can be used to keep small jewelry or accessories like bobby pins and hair ties. It's the perfect gift for girls to keep their accessories organized!
Results
This heart shaped music box comes with a removable magnetic ballerina, ready to dance to the soothing music box sounds. This box is great for storage as well as decor for your home.