8854414
Diamond Drop Pendant in Platinum Over Sterling Silver 1.05 ctw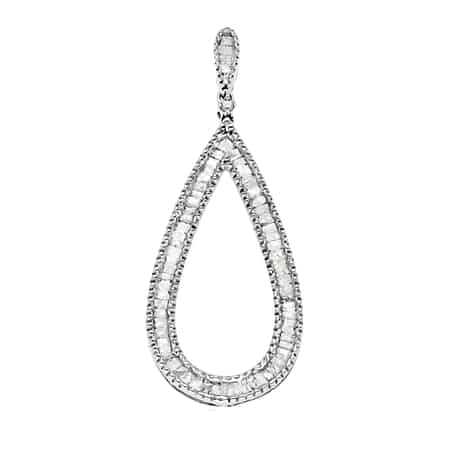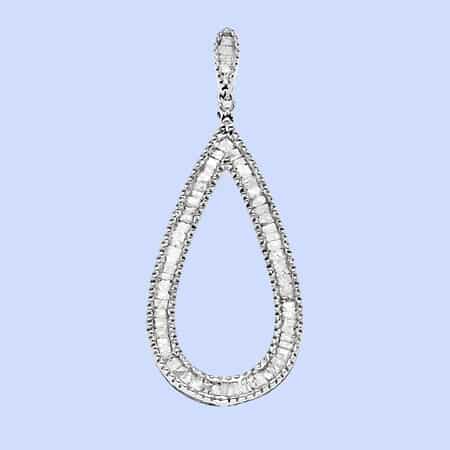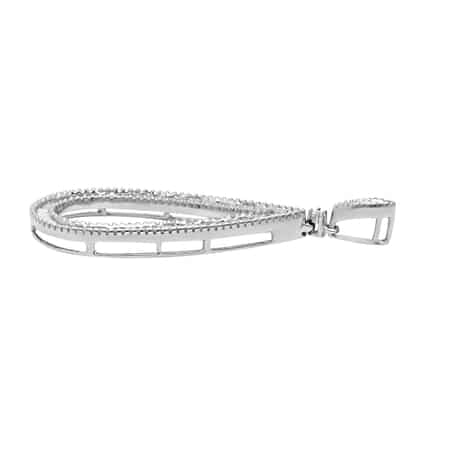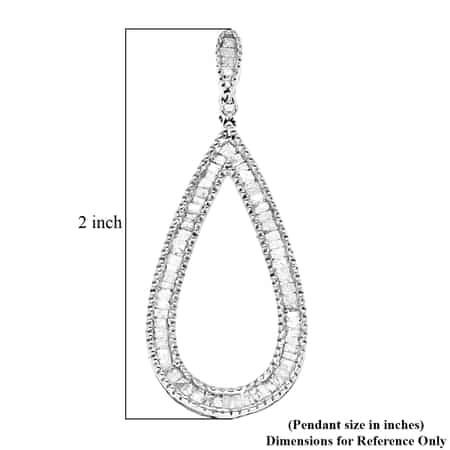 sold
Hover your mouse over an image to zoom
8854414
Diamond Drop Pendant in Platinum Over Sterling Silver 1.05 ctw
Clearance
$299.99
null
Free Shipping
5 x $60*
First Installment will include S&H and taxes.

$299.99
null
- Out of Stock
Diamond Drop Pendant in Platinum Over Sterling Silver 1.05 ctw
Why choose Shop LC ?
Free Standard Shipping on Online Orders $50+
30 Day Easy Returns
Lowest Price Guarantee
This diamond drop pendant is a perfect example of elegant beauty with drop as its design inspiration. Made from sterling silver with platinum plating, this highly versatile drop pendant is studded with a total of sixty-two diamonds of varied shapes and sizes. The exotic design and expert craftsmanship of this diamond drop pendant are sure to grab everyone's attention in just a quick glance.
Highlights
DESIGN INSPIRATION: Designed with water drop as its inspiration
SYMBOLISM: Water drops are symbolic of purity and innocence
DURABLE METAL: This drop pendant is made from sterling silver which is a highly durable and hypoallergenic metal
FIRM GRIP: All the sixty-two diamonds of this pendant are set securely in either channel or prong setting for a firm grip
MILGRAIN DETAILS: This diamond pendant is adorned with fine milgrain beads that lend a glittery look to it
VERSATILE: This beautiful drop pendant can be paired with most styles of clothing

DIAMONDS ARE FOR FOREVER:

An heirloom gem- can be passed on to generations. A reliable investment option retains popularity
Diamond I Information
| | |
| --- | --- |
| Number of Square Diamond (s) | 1 |
| Minimum Carat Total Weight (ct. tw) | 0.01 |
| Minimum Size | 1.8 mm |
| Gemstone Color | Colorless |
| Average Clarity | I3 |
| Hardness | 10 |
| Treatment | None |
| Setting Type | Channel |
Diamond II Information
| | |
| --- | --- |
| Number of Tapered Baguette Diamond (s) | 1 |
| Minimum Carat Total Weight (ct. tw) | 0.01 |
| Minimum Size | 2.1mm (Length) x 1mm (Breadth) x 0.9mm (Height) |
| Gemstone Color | Colorless |
| Average Clarity | I3 |
| Hardness | 10 |
| Treatment | None |
| Setting Type | Channel |
Diamond III Information
| | |
| --- | --- |
| Number of Tapered Baguette Diamond (s) | 27 |
| Minimum Carat Total Weight (ct. tw) | 0.43 |
| Minimum Size | 1.7mm (Length) x 1.1mm (Breadth) x 0.85mm (Height) |
| Gemstone Color | Colorless |
| Average Clarity | I3 |
| Hardness | 10 |
| Treatment | None |
| Setting Type | Channel |
Diamond IV Information
| | |
| --- | --- |
| Number of Tapered Baguette Diamond (s) | 28 |
| Minimum Carat Total Weight (ct. tw) | 0.45 |
| Minimum Size | 1.8mm (Length) x 1.2mm (Breadth) x 1mm (Height) |
| Gemstone Color | Colorless |
| Average Clarity | I3 |
| Hardness | 10 |
| Treatment | None |
| Setting Type | Channel |
Diamond V Information
| | |
| --- | --- |
| Number of Tapered Baguette Diamond (s) | 2 |
| Minimum Carat Total Weight (ct. tw) | 0.03 |
| Minimum Size | 1.6mm (Length) x 1.1mm (Breadth) x 0.7mm (Height) |
| Gemstone Color | Colorless |
| Average Clarity | I3 |
| Hardness | 10 |
| Treatment | None |
| Setting Type | Channel |
Diamond VI Information
| | |
| --- | --- |
| Number of Tapered Baguette Diamond (s) | 2 |
| Minimum Carat Total Weight (ct. tw) | 0.03 |
| Minimum Size | 2mm (Length) x 1mm (Breadth) x 0.8mm (Height) |
| Gemstone Color | Colorless |
| Average Clarity | I3 |
| Hardness | 10 |
| Treatment | None |
| Setting Type | Channel |
Diamond VII Information
| | |
| --- | --- |
| Number of Round Diamond (s) | 1 |
| Minimum Carat Total Weight (ct. tw) | 0.01 |
| Minimum Size | 1.6 mm |
| Gemstone Color | Colorless |
| Average Clarity | I3 |
| Hardness | 10 |
| Treatment | None |
| Setting Type | Prong |
Pendant Information
| | |
| --- | --- |
| Type | Drop Pendant |
| Metal | Sterling Silver |
| Height | 50 mm |
| Approximate Weight | 4.14 Grams |
| Plating | Platinum Plating |
How We Deliver Joy