3091016
Elephant Earrings and Choker Necklace 16 Inches in Goldtone
sold
Hover your mouse over an image to zoom
3091016
Elephant Earrings and Choker Necklace 16 Inches in Goldtone
Out of Stock
$15.99
|
You save an extra: undefined%
Why Choose Shop LC?
Free Standard Shipping on Online Orders $50+
Extended returns through January 15, 2023
Lowest Price Guarantee
Product Description
Step out in style as you grace your looks with this beautiful set of necklace and earrings. The jewelry set is inspired by the creature theme and features exquisitely crafted elephant motifs. Elephants are symbolic of loyalty and wisdom, making this an excellent pick to get for yourself or your loved ones. Enriched with artistic detailing, it's the perfect combination of elegance and glamour.
Highlights
· Set of necklace and earrings
· Framed in rosetone and ion plated rose gold stainless steel
· Durable and nonallergenic metal
· Meticulously designed
· Fishhook earrings
· Choker necklace
· Designer clasp
· Superior finish and shine
---
---
Elephant Earrings and Choker Necklace 16 Inches in Goldtone
Fashion bangle are the simple, elegant, and extremely classy bangles that can be worn to offices, parties, festivals, and special occasions.
Mix metal is a combination of a metal and another element.
The measurement of the jewelry piece from end to end. The values are approximate and may vary due to the unique craftsmanship of jewelry.
S-hook clasp features a s-shaped hook at one end and a ring at another. Just slide the S-hook onto the ring to fasten the piece.
Approximate weight is the weight of the jewelry or the gemstone in a jewelry setting. It is the nearest value to the actual weight.
Ion plated yellow gold produces a harder and durable coating with a higher brightness. Ion plated jewelry is proven to last longer compared to electroplated jewelry. Coating usually lasts for decades.
Dangle earrings are those that swing to and fro or from side to side. This variety of earrings typically hangs below the earlobe and move.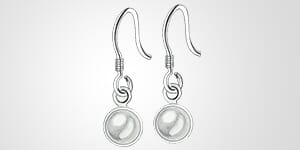 French Wire/Fish-hook is a curved wire hook that slides through the pierced ear hole and occasionally closes with a catch. It is typically used for dangling earrings.