2482152
Engraved Hoop Earrings in ION Plated Rose Gold Stainless Steel
sold
Hover your mouse over an image to zoom
2482152
Engraved Hoop Earrings in ION Plated Rose Gold Stainless Steel
Out of Stock
Est. Delivery: Dec 5 - Dec 7 via US Standard shipping
Out of Stock

This item is currently not available
Inspired by a mystic knot, these hoop earrings are a subtle piece of adornment with a bold look. Crafted in stainless steel, these earrings showcase the beauty of engraved design, representing a mystic knot. The ION rose gold plating gives a feminine look to the piece.
Highlights
INSPIRATION: The hoop earrings are inspired by a mystic knot
SYMBOLISM: As a mystic knot symbolizes a harmonious flow of energy, these earrings represent the same
ENGRAVED DESIGN: The engraved design adds beauty to the piece

EASY CLOSURE:

The easy closure on ends allows firm gripping to the earlobes

ACE IT:

With any face type, hoop earrings are there to draw attention to them

METAL INFO:

The earrings are crafted in stainless steel plated with ION rose gold plating that provides sheen to the piece
Engraved Hoop Earrings in ION Plated Rose Gold Stainless Steel
Hoop earrings are shaped like hoops and loop from the front of the earlobe to the back.
One of the most widely used metals, stainless steel has the benefit of having a hypoallergenic finish and a non-reactive surface. Shop LC uses 316L stainless steel, popularly known as surgical grade stainless steel. This metal has higher corrosion resistance and durability compared to other metals.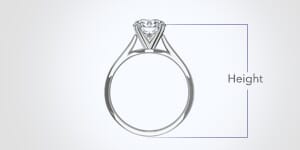 Height of a jewelry piece is measured vertically from the base to the top. The values are approximate and may vary due to the unique craftsmanship of jewelry.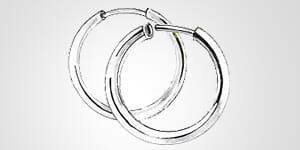 Hinged hoop setting comes with a hinge at the bottom. To wear them, open the hinge of the earring and insert into the ear. To close the hinge, press the post into a small indentation or hole on the other side.
Approximate weight is the weight of the jewelry or the gemstone in a jewelry setting. It is the nearest value to the actual weight.
Ion plated rose gold produces a harder and durable coating with a higher brightness. Ion plated jewelry is proven to last longer compared to electroplated jewelry. Coating usually lasts for decades.