3676614
Handmade Blue Eco-Friendly Leather Round Corner Jewelry Organiser with Trey and Mirror
3676614
Handmade Blue Eco-Friendly Leather Round Corner Jewelry Organiser with Trey and Mirror
Out of Stock
$14.99
|
You save an extra: undefined%
Why Choose Shop LC?
Free Standard Shipping on Online Orders $50+
Returnable until Jan 15, 2023
Lowest Price Guarantee
Product Description
Attractive and durable in quality, this jewelry organizer is designed to safeguard your jewelry from dust and scratches. With spacious compartments, the box allows organized storage and the perk of carrying it around without any hustle. Apart from protecting your valuables, the jewelry box allows easy access and top-notch organization.
Highlights
HANDMADE: Skilled artisans manually craft the designer jewelry organizer
WHY BUY: The compact storage box accommodates more in lesser space
ECO-FRIENDLY: It is layered with Eco-Leather
A SMART BUY: It helps in organizing your jewels better with smaller sections compartment
MIRROR: Mirror affixed inside the lid allows you to check yourself wearing jewelry
SIZE: The size of the box is about 5 x 7 inches
---
---
Handmade Blue Eco-Friendly Leather Round Corner Jewelry Organiser with Trey and Mirror
Product Information
| | |
| --- | --- |
| Product Type | Jewelry Organizer |
| Color | |
| Care | Clean with Dry Cloth |
| Dimension (s) | 7 inches (Length) x 5 inches (Width) |
Every product has its own color or color combination which can be described in terms of hue, lightness and saturation. Color provides a unique appearance to the product.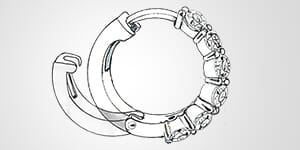 Latch back setting features a fine groove at the end of the post that can fasten the second movable part.