3114779
Hoop Earrings in Stainless Steel
sold
Hover your mouse over an image to zoom
3114779
Hoop Earrings in Stainless Steel
Out of Stock
$21.99
|
You save an extra: undefined%
Why Choose Shop LC?
Free Standard Shipping on Online Orders $50+
Returnable until Jan 15, 2023
Lowest Price Guarantee
Product Description
Unique teardrop inspired shape is the key attraction of these hoop earrings. The hollow design gives bold look yet very lightweight to wear. Simplistic and unpretentious, these earrings will not overwhelm your style yet add a fashionable allure to it. Fashioned in stainless steel.
Highlights
ALL-TIME TREND: The fashion of hoops has been trending for ages and continues to shine bright
TEARDROP: The smooth and lustrous hoops are designed in the tear drop shape
CARVED WITH SMOOTH FINISH: These hoops are featured with a smooth surface and commendable details
MIRROR LIKE FINISH: The intricate details are well crafted in rhodium over sterling silver
EASY TO LATCH: Can be worn quite easily with the help of hinged locks at the back
LIGHTWEIGHT BUT WITH BIG IMPACT: The earrings weigh quite light on the ears yet leave a heavy statement style
---
---
Hoop earrings are shaped like hoops and loop from the front of the earlobe to the back.
One of the most widely used metals, stainless steel has the benefit of having a hypoallergenic finish and a non-reactive surface. Shop LC uses 316L stainless steel, popularly known as surgical grade stainless steel. This metal has higher corrosion resistance and durability compared to other metals.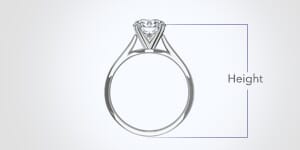 Height of a jewelry piece is measured vertically from the base to the top. The values are approximate and may vary due to the unique craftsmanship of jewelry.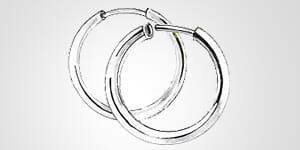 Hinged hoop setting comes with a hinge at the bottom. To wear them, open the hinge of the earring and insert into the ear. To close the hinge, press the post into a small indentation or hole on the other side.
Approximate weight is the weight of the jewelry or the gemstone in a jewelry setting. It is the nearest value to the actual weight.