3619039
Jardin Collection South Sea Golden Culture Pearl and Multi Gemstone Necklace 18 Inches in Vermeil YG Over Sterling Silver 2.30 ctw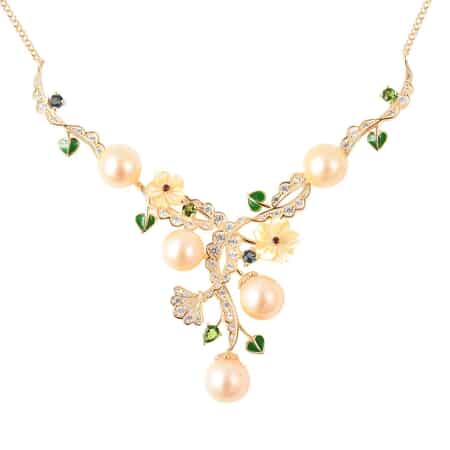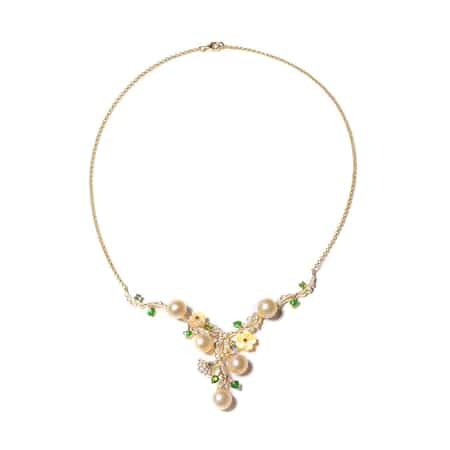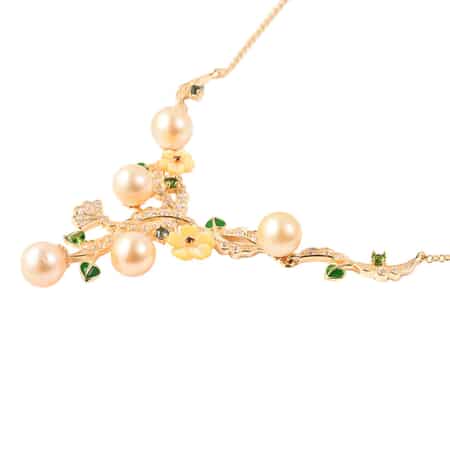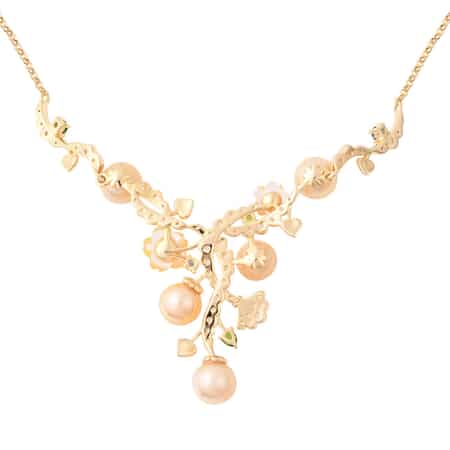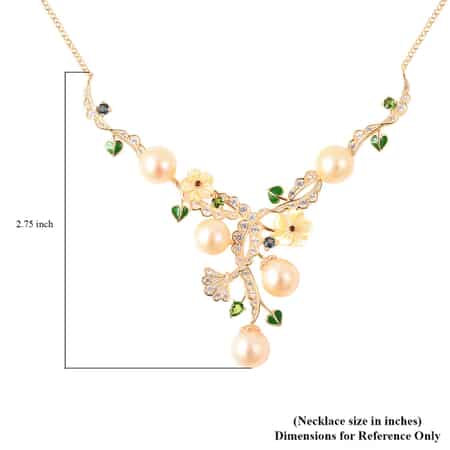 sold
Hover your mouse over an image to zoom
3619039
Jardin Collection South Sea Golden Culture Pearl and Multi Gemstone Necklace 18 Inches in Vermeil YG Over Sterling Silver 2.30 ctw
Clearance
$779.99
null
Free Shipping
5 x $156*
First Installment will include S&H and taxes.
Why choose Shop LC ?
Free Standard Shipping on Online Orders $50+
30 Day Easy Returns
Lowest Price Guarantee
Inspired by a floral vine, this South Sea golden culture pearl and multi-gemstone necklace symbolizes the everlasting bonds of family and celebrates deep love and respect. This necklace features South Sea golden culture pearl-studded flowers and multi-gemstone studded designer floral vine. A floral vine necklace feels like wearing a mini garden. South Sea Golden Cultured Pearls are like sunshine, reflecting their beauty and warmth onto the skin of the lucky person who wears them. The fascinating piece is furnished in a sterling silver frame, featuring an iridescent glamour of South Sea golden culture pearl. This lobster clasp secured necklace is 18inches in length falls above the collar bone and is known as a princess-length necklace.
South Sea Pearl Information
| | |
| --- | --- |
| Number of Round South Sea Pearl (s) | 5 |
| Minimum Size | 10 mm |
| Gemstone Color | Golden |
| Average Clarity | Opaque |
| Hardness | 2.5-4 |
| Treatment | None |
| Setting Type | Glue |
Mother of Pearl I Information
| | |
| --- | --- |
| Number of Fancy Mother of Pearl (s) | 1 |
| Gemstone Color | Yellow |
| Minimum Size | 8mm (Length) x 8mm (Breadth) |
| Average Clarity | Opaque |
| Hardness | 3.5 |
| Treatment | None |
| Setting Type | Fancy |
Mother of Pearl II Information
| | |
| --- | --- |
| Number of Fancy Mother of Pearl (s) | 1 |
| Gemstone Color | Yellow |
| Minimum Size | 10mm (Length) x 10mm (Breadth) |
| Average Clarity | Opaque |
| Hardness | 3.5 |
| Treatment | None |
| Setting Type | Fancy |
Chrome Diopside I Information
| | |
| --- | --- |
| Number of Pear Chrome Diopside (s) | 1 |
| Minimum Carat Total Weight (ct. tw) | 0.20 |
| Minimum Size | 4mm (Length) x 3mm (Breadth) |
| Gemstone Color | Deep Green |
| Average Clarity | Transparent |
| Hardness | 5-6 |
| Treatment | None |
| Setting Type | Prong |
Chrome Diopside II Information
| | |
| --- | --- |
| Number of Round Chrome Diopside (s) | 2 |
| Minimum Carat Total Weight (ct. tw) | 0.30 |
| Minimum Size | 3 mm |
| Gemstone Color | Deep Green |
| Average Clarity | Transparent |
| Hardness | 5-6 |
| Treatment | None |
| Setting Type | Prong |
London Blue Topaz Information
| | |
| --- | --- |
| Number of Round London Blue Topaz (s) | 2 |
| Minimum Carat Total Weight (ct. tw) | 0.30 |
| Minimum Size | 3 mm |
| Gemstone Color | Dusty Blue |
| Average Clarity | Transparent |
| Hardness | 8 |
| Treatment | Irradiation (IR) |
| Setting Type | Prong |
Mozambique Garnet I Information
| | |
| --- | --- |
| Number of Round Mozambique Garnet (s) | 1 |
| Minimum Carat Total Weight (ct. tw) | 0.02 |
| Minimum Size | 2 mm |
| Gemstone Color | Red |
| Average Clarity | Transparent |
| Hardness | 7-7.5 |
| Treatment | None |
| Setting Type | Prong |
Mozambique Garnet II Information
| | |
| --- | --- |
| Number of Round Mozambique Garnet (s) | 1 |
| Minimum Carat Total Weight (ct. tw) | 0.01 |
| Minimum Size | 1.5 mm |
| Gemstone Color | Red |
| Average Clarity | Transparent |
| Hardness | 7-7.5 |
| Treatment | None |
| Setting Type | Prong |
Zircon I Information
| | |
| --- | --- |
| Number of Round Zircon (s) | 6 |
| Minimum Carat Total Weight (ct. tw) | 0.30 |
| Minimum Size | 2 mm |
| Gemstone Color | Colorless |
| Average Clarity | Transparent |
| Hardness | 6.5-7 |
| Treatment | None |
| Setting Type | Prong |
Zircon II Information
| | |
| --- | --- |
| Number of Round Zircon (s) | 14 |
| Minimum Carat Total Weight (ct. tw) | 0.50 |
| Minimum Size | 1.8 mm |
| Gemstone Color | Colorless |
| Average Clarity | Transparent |
| Hardness | 6.5-7 |
| Treatment | None |
| Setting Type | Prong |
Zircon III Information
| | |
| --- | --- |
| Number of Round Zircon (s) | 14 |
| Minimum Carat Total Weight (ct. tw) | 0.30 |
| Minimum Size | 1.5 mm |
| Gemstone Color | Colorless |
| Average Clarity | Transparent |
| Hardness | 6.5-7 |
| Treatment | None |
| Setting Type | Prong |
Zircon IV Information
| | |
| --- | --- |
| Number of Round Zircon (s) | 17 |
| Minimum Carat Total Weight (ct. tw) | 0.23 |
| Minimum Size | 1.2 mm |
| Gemstone Color | Colorless |
| Average Clarity | Transparent |
| Hardness | 6.5-7 |
| Treatment | None |
| Setting Type | Prong |
Zircon V Information
| | |
| --- | --- |
| Number of Round Zircon (s) | 15 |
| Minimum Carat Total Weight (ct. tw) | 0.12 |
| Minimum Size | 1 mm |
| Gemstone Color | Colorless |
| Average Clarity | Transparent |
| Hardness | 6.5-7 |
| Treatment | None |
| Setting Type | Prong |
Necklace Information
| | |
| --- | --- |
| Type | Fashion Necklace |
| Metal | Sterling Silver |
| Length | 18 Inches |
| Clasp | Lobster Claw |
| Plating | Yellow Gold Vermeil |
How We Deliver Joy