2920637
KARIS Amethyst Drop Earrings in Platinum Bond 1.15 ctw
sold
Hover your mouse over an image to zoom
2920637
KARIS Amethyst Drop Earrings in Platinum Bond 1.15 ctw
Out of Stock
$17.99
|
You save an extra: undefined%
Why Choose Shop LC?
Free Standard Shipping on Online Orders $50+
Extended returns through January 15, 2023
Lowest Price Guarantee
Product Description
These brilliant amethyst drop earrings from the Karis Collection are an ideal pair for a cocktail party. The earrings are detailed with subtle texture for added beauty. The earrings infuse a delightfully unique and vibrant update with the coveted charms of precisely faceted gems, ensuring your style is sported by everything exuberant.
Highlights
AMAZED WITH AMETHYST:

Drenched in the color of royalty, amethyst is a versatile gemstone, perfect for any jewelry collection. The February birthstone ranks seven on the Mohs scale of hardness

YOUR ALL-TIME FAVORITE:

Elegantly crafted in a shimmering frame of lustrous metal, this beautiful pair complements both formal and casual attire and is an all-occasion fashion accessory

STURDY AND DURABLE:

Outstanding durability of premium quality metal makes sure the pair of earrings maintains its beauty for an infinitely long time

SUPPORTIVE STYLE:

The gems are beautifully secured in prongs setting

SECURED WITH PUSH POST CLASPS:

Push post clasp is one of the most popular enclosures for drop earrings, assuring a secured and comfortable fit
---
---
KARIS Amethyst Drop Earrings in Platinum Bond 1.15 ctw
Amethyst I Information
| | |
| --- | --- |
| Number of Oval Amethyst (s) | 2 |
| Minimum Carat Total Weight (ct. tw) | 0.88 |
| Minimum Size | 6mm (Length) x 4mm (Breadth) |
| Gemstone Color | Deep Purple |
| Average Clarity | Transparent |
| Treatment | Heat |
| Setting Type | Prong |
Amethyst II Information
| | |
| --- | --- |
| Number of Oval Amethyst (s) | 2 |
| Minimum Carat Total Weight (ct. tw) | 0.32 |
| Minimum Size | 4mm (Length) x 3mm (Breadth) |
| GemstoneColor | Deep Purple |
| Average Clarity | Transparent |
| Treatment | Heat |
| Setting Type | Prong |
Earrings Information
| | |
| --- | --- |
| Type | Drop Earrings |
| Metal | Brass |
| Height | 25 mm |
| Backing | Disk & Rubber Backs |
| Plating | Platinum Plating |
It denotes the total carat weight of all the gemstones. For example: In a ring there are two gemstones, each gemstone might weigh roughly 1 carat, equaling approximately 2 ct. tw.
Minimum size is the measurement of the size of gemstone present in the jewelry.
Transparent is a grade of gemstone clarity in which there are no inclusions. Light can easily pass through the material.
In this process, heat is slowly applied to gemstones at temperatures ranging from 200 to 2000 degrees Celsius. Gemstones are formed under heat and pressure, and this heat-only treatment can act as a continuation of Mother Nature's original design. This enhancement alters the color or improves clarity.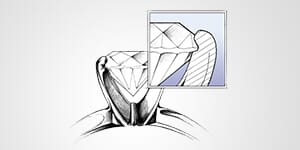 This style sets the gemstone high. This setting usually features 4 or 6 prongs, bent at the edge to snugly fit the gem in place while forming a basket shape underneath.
Drop earrings hang down below the earlobe and are typically stationary, almost like an extended stud earring.
An alloy of zinc and copper, brass is flexible and very malleable, making it perfect for shaping into intricate jewelry designs. The resemblance to gold makes it popular for jewelry making. Also, brass is known for its strength and durability.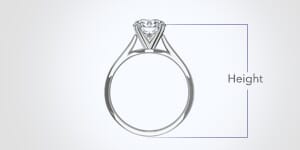 Height of a jewelry piece is measured vertically from the base to the top. The values are approximate and may vary due to the unique craftsmanship of jewelry.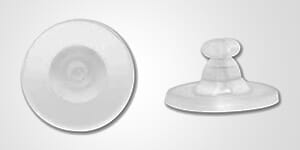 Disk & Rubber backs is a simple fastening type. Insert the post (attached to the back of the earring) to the earlobe and fastened with a disk shaped rubber back.
Platinum is harder than silver and gold. The metal is also hypo-allergenic & tarnish-resistant. Platinum plating is durable and helps in enhancing the metal-life. In addition, the plating maintains a bright white sheen that makes metal even more beautiful.