2919991
Lord's Prayer Bracelet 8.50 inch and Cross Pendant Necklace in Stainless Steel (24.00 In)
sold
Hover your mouse over an image to zoom
2919991
Lord's Prayer Bracelet 8.50 inch and Cross Pendant Necklace in Stainless Steel (24.00 In)
Out of Stock
$31.99
|
You save an extra: undefined%
Why Choose Shop LC?
Free Standard Shipping on Online Orders $50+
Extended returns through January 15, 2023
Lowest Price Guarantee
Product Description
Inspired by the religious cross sign, this Lord's prayer bracelet and cross pendant necklace keeps the divine glory of God close to your heart. Cross design symbolizes a connection with the spirituality and hope. The metal strands are finely shaped to design the cross shape and carvings on the bracelet, offering excellent artistry. This cross-pendant necklace and bracelet is meticulously designed in a sturdy metal, ensuring the brilliance of the pendant. The metal frame is tarnish resistant, dripping with simplicity and grace. Stay connected with the universe through this prayer bracelet and necklace.
---
Fashion bracelet is a simple, elegant, and extremely classy bracelet that can be worn to offices, parties, festivals, and special occasions.
One of the most widely used metals, stainless steel has the benefit of having a hypoallergenic finish and a non-reactive surface. Shop LC uses 316L stainless steel, popularly known as surgical grade stainless steel. This metal has higher corrosion resistance and durability compared to other metals.
The measurement of the jewelry piece from end to end. The values are approximate and may vary due to the unique craftsmanship of jewelry.
In comfort fit, the band features rounded edges for better comfort and easy wearability.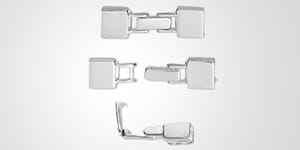 Fold-over clasp opens by placing the fingernail under the notch and pulling it upward. To fasten the clasp, place the hinged piece through the loop and press it.
A cross pendant is any pendant that showcases a Christian cross or crucifix.
Approximate weight is the weight of the jewelry or the gemstone in a jewelry setting. It is the nearest value to the actual weight.