3189922
Platinum Over Sterling Silver and Stainless Steel Crucifix Pendant Necklace 20 Inches
sold
Hover your mouse over an image to zoom
3189922
Platinum Over Sterling Silver and Stainless Steel Crucifix Pendant Necklace 20 Inches
Out of Stock
$23.99
|
You save an extra: undefined%
Why Choose Shop LC?
Free Standard Shipping on Online Orders $50+
Returnable until Jan 15, 2023
Lowest Price Guarantee
Product Description
This crucifix pendant necklace explores one of Christianity's greatest tenets- Jesus' death on the cross provides salvation to mankind. Platinum-finish over the sterling silver pendant and stainless-steel chain ensure that this pendant stays with you forever. The beautiful scrollwork and metal artistry intensify the concepts of divinity and help you walk through the hard times with ease.
Highlights
DESIGN INSPIRATION: This pendant necklace is based on the Jesus crucifixion
SYMBOLISM: The crucifixion is considered as the greatest tenets of Christianity that Jesus death provides ultimate salvation to the humankind
METAL STRENGTH: Both the chain and pendant of this jewelry has a platinum finish that ensures it stays with you for a lifetime
MILGRAIN BEADS: The edges of the pendant have been adorned with milgrain beads to lend depth to the design
CHAIN INCLUDED: The crucifix pendant has been paired with a 20-inch chain to complete this pendant necklace
---
---
A cross pendant is any pendant that showcases a Christian cross or crucifix.
Mix metal is a combination of a metal and another element.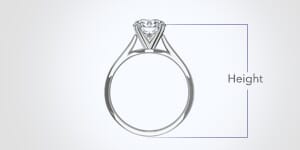 Height of a jewelry piece is measured vertically from the base to the top. The values are approximate and may vary due to the unique craftsmanship of jewelry.
Approximate weight is the weight of the jewelry or the gemstone in a jewelry setting. It is the nearest value to the actual weight.